The Hunted
by Gabriel Bergmoser
$9.99
AUD
Category: Crime Fiction
Nowhere to run, nowhere to hide - an electrifying, heartpounding, truly unputdownable thriller - a bestselling debut from talented newcomer, Gabriel Bergmoser. 'A truly terrifying, breathlessly exciting novel. It gut punches you in the first few pages and doesn't let you recover until the final, thrill ing climax. An extraordinary book.' M W Craven 'An original and high-octane read, it makes Deliverance look like Picnic at Hanging Rock.' The Times/Sunday Times Crime Club Frank is a service station owner on a little-used highway who just wants a quiet life. His granddaughter has been sent to stay with him to fix her attitude, but they don't talk a lot. When a badly injured young woman arrives at Frank's service station with several cars in pursuit, Frank and a handful of unsuspecting customers are thrust into a life-or-death standoff.But who are this group of men and women who will go to any lengths for revenge? And what do they want? Other than no survivors ...? A ferociously fast-paced, filmic, visceral, tense and utterly electric novel, unlike anything you've read before. Set on a lonely, deserted highway, deep in the Australian badlands, The Hunted is white-knuckle suspense matched to the fast-paced adrenaline of a Jack Reacher novel and the creeping menace of Wake in Fright. This is unmissable reading. 'This slice of outback noir is .... at once exhilarating, gleefully vicious and totally, race-to-the-finish-line unputdownable' Observer 'An audacious walk on the wildest side of outback noir ... a vivid thriller.' Sydney Morning Herald 'A perfectly paced, thrilling read with an unrelenting sense of dread and menace ...building suspense at every turn of the page. Crime and thriller readers will love this savage Rottweiler of a novel that will clamp its jaws around their throat and shake them to the end.' Bookseller+Publisher 'Tough, violent, suspenseful and peopled with great characters,The Hunted could well be the Australian thriller of the year. This is Jack Reacher for adults.' Canberra Weekly   ...Show more
$19.99
AUD
Category: Crime Fiction | Series: Cormac Reilly Ser.
'A truly fine police procedural' - IRISH INDEPENDENT 'Utterly compelling' - JANE CASEY 'A superbly paced, engaging read' - WOMAN'S WAY BRILLIANCE CAN BE DEADLY . . . When Detective Cormac Reilly's girlfriend Emma stumbles across the victim of a hit and run early one morning, he is first on the scene of a murder that would never have been assigned to him. The investigation promises to be high profile and high pressure: the dead girl is carrying an ID, that of Carline Darcy, heir apparent to Ireland's most successful pharmaceutical company. Darcy Therapeutics has a finger in every pie, including the laboratory where Emma works. As Cormac investigates, evidence mounts that the death is linked to the lab and, increasingly, to Emma herself. Cormac is sure she couldn't be involved, but how well does he really know her? After all, this isn't the first time Emma's been accused of murder . . . ****** Praise for Dervla McTiernan's debut novel, THE RUIN: 'Dervla McTiernan is a future star of the genre' CHRIS BROOKMYRE 'Cormac Reilly is a brilliant new character' SAM BLAKE 'Brilliantly crafted . . . incredibly real-feeling characters. An absolute treat!' SUNDAY MIRROR 'An exciting new voice in Irish noir' SUNDAY TIMES 'Corruption, clandestine cover-ups and criminal conspiracy ... as moving as it is fast-paced' VAL McDERMID 'Loved THE RUIN by Dervla McTiernan. A compelling story with beautifully drawn characters I really cared about' LAURA MARSHALL 'Absolutely brilliant. Wonderful characters, authentic setting, and a sublime, twisty plot' IRISH EXAMINER 'Heartbreaking and heart-stopping' CAZ FREAR 'THE RUIN is as convincing as it is multi-layered, as compelling as it is complex . . . Dervla is a future star of the genre' CHRIS BROOKMYRE 'Fans of Tana French will love McTiernan's expertly plotted, complex web of secrets that refuse to stay hidden' KAREN DIONNE There are not many books that will keep me reading from start to finish but Dervla McTiernan's THE RUIN did just that . . . An excellent story, very well written . . . this one was a winner for me! ALEX GRAY 'Loved every page . . . Cormac Reilly is a brilliant new character, so real you can hear his footsteps on the stairs. Utterly gripping, brilliantly executed story' SAM BLAKE 'Intelligent, compassionate and believable' SINEAD CROWLEY ...Show more
$19.99
AUD
Category: Crime Fiction
BOOK 1 IN THE JACK WEST JR. SAGA. Two thousand years ago, it was hidden within the Seven Wonders of the Ancient World. Now, in the present day, it must be found again... Captain Jack West Jr - part soldier, part scholar, all hero. The odds are stacked against him and his loyal team: nine brave companion s taking on the most powerful countries on earth. From the pyramids of Egypt to the swamps of Sudan, to the Hanging Gardens of Babylon and the boulevards of Paris: the desperate race begins for the greatest prize of all: the power to end the world or rule it.   ...Show more
$19.99
AUD
Category: Crime Fiction | Series: Cormac Reilly Ser.
When Aisling Conroy's boyfriend Jack is found in the freezing black waters of the river Corrib, the police tell her it was suicide. A surgical resident, she throws herself into study and work, trying to forget -- until Jack's sister Maude shows up. Maude suspects foul play, and she is determined to prov e it.   ...Show more
$32.99
AUD
Category: Crime Fiction
'At first glance they're magnificent, yet the more she looks, the more she realizes how sinister the mountains appear- raw, jagged spikes. It's not hard to imagine, she thinks, looking out; this place somehow consuming someone, swallowing them whole.' An imposing, isolated hotel, high up in the Swiss A lps, is the last place Elin Warner wants to be. But she's taken time off from her job as a detective, so when she receives an invitation out of the blue to celebrate her estranged brother's recent engagement, she has no choice but to accept. Arriving in the midst of a threatening storm, Elin immediately feels on edge. Though it's beautiful, something about the hotel, recently converted from an abandoned sanatorium, makes her nervous - as does her brother, Isaac. And when they wake the following morning to discover his fiancee Laure has vanished without a trace, Elin's unease grows. With the storm cutting off access to and from the hotel, the longer Laure stays missing, the more the remaining guests start to panic. But no-one has realized yet that another woman has gone missing. And she's the only one who could have warned them just how much danger they're all in . . . ...Show more
$17.99
AUD
Category: Crime Fiction | Series: Camel Club Ser.
The Camel Club by bestselling sensation David Baldacci is the exciting first instalment of a breathtaking series.The Camel Club: a group of conspiracy theorists led by the mysterious Oliver Stone, who camp outside the White House. Their goal - to expose corruption at the upper echelons of US government. The stakes are raised when the group witness the murder of an intelligence analyst. A murder the authorities seem intent on writing off as suicide. Looking at the case more closely provokes more questions than answers.Joining forces with Secret Service Agent Alex Ford, the Camel Club prepare to shine a spotlight on a conspiracy that reaches into the heart of Washington's corridors of power. In doing so, Ford finds out that his worst nightmare is about to happen . . .The Camel Club is followed by The Collectors, Stone Cold, Divine Justice and Hell's Corner. ...Show more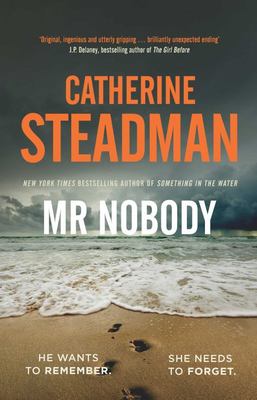 Mr Nobody
by Catherine Steadman
$19.99
AUD
Category: Crime Fiction
Memento meets Sharp Objects in this superb new thriller from Catherine Steadman, the bestselling author of Something in the Water, a 2019 Richard & Judy Book Club pick.  When a man is found on a Norfolk beach, drifting in and out of consciousness, with no identification and unable to speak, interes t in him is sparked immediately. From the hospital staff who find themselves inexplicably drawn to him; to international medical experts who are baffled by him; to the national press who call him Mr Nobody; everyone wants answers.  Who is this man? And what happened to him?   Neuropsychiatrist Dr Emma Lewis is asked to assess the patient. This is her field of expertise, this is the chance she's been waiting for and this case could make her name known across the world. But therein lies the danger. Emma left this same small town in Norfolk fourteen years ago and has taken great pains to cover all traces of her past since then.   But now something - or someone - is calling her back. And the more time Emma spends with her patient, the more alarmed she becomes.   Has she walked into danger?   Praise for Something in the Water 'Worthy of Hitchcock' Sunday Times 'Arresting . . . deftly paced, elegantly chilly . . . Something in the Water is a proper page-turner' The New York Times   'High-octane, heart-pounding read'Good Housekeeping 'A thriller for our times . . . Catherine Steadman is a fresh and playful new voice' Louise Candlish 'Will leave you questioning your own morality' Grazia   'The perfect beach read' Reese Witherspoon (Reese's Book Club x Hello Sunshine book pick)   'Superbly written' B A Paris   'Addictive'Sunday Express   'A fascinating moral dilemma, a fast-paced examination of the slippery slope and the precarious foundations our middle-class lives are built on' Gillian McAllister   'Thrilling and thought-provoking' Riley Sager ...Show more
$27.99
AUD
$32.99
(15% off)
Category: Crime Fiction | Series: Aloysius Archer Ser.
Evoking the golden age of crime and for fans of Raymond Chandler and Agatha Christie, comes A Gambling Man from one of the world's bestselling thriller writers, David Baldacci. A lucky roll of the dice. It is nearly 1950 and Aloysius Archer is on his way to Bay Town, California to take up a post with re nowned gumshoe, Willie Dash. Making an overnight stop in Reno he gets lucky at the casino, meets a talented actor named Liberty Callahan with her sights set on Hollywood, and helps out a man threatened by mobsters for a bad debt. With a magnificent Delahaye motor as his repayment, Archer goes west with Liberty to seek work, fame and fortune. The journey is dangerous and full of surprises as Liberty shows her steel and reveals she has a past as dark as Archer's. A risk worth taking In Bay Town, Willie Dash is tasked with finding out who is doing everything in their power to prevent his client, politician Douglas Kemper, from being mayor. As Archer and Dash dig deeper, they discover a town full of secrets and strange events. When two seemingly unrelated murders occur at Midnight Moods, a local burlesque club owned by local scion, Sawyer Armstrong, Archer and Dash must dig deep to find a connection between the killings. All bets are off To prove himself in his first case as a PI, Archer will need all of his skills to decipher the truth from the lies, the good from the evil and the relevance of the mysterious happenings offshore he saw during a late night boat ride in the Pacific. While Liberty, in a final perilous showdown, shows that she's a true star in the making.   ...Show more
$32.99
AUD
Category: Crime Fiction
Tokyo, Japan.  Umiko Wada has had enough excitement in life. With an overbearing mother and her husband recently murdered, she just wants to keep her head down. As a secretary to a private detective, her life is pleasantly filled with coffee runs and paperwork. That is, until her boss takes on a new cas e. A case that is surrounded by shadows. A case that means Wada will have to leave Tokyo and travel to London. London, England. Nick Miller never knew his father, and was always told he wasn't missing much. But when an old friend of his late mother says there are things that Nick needs to know about his parents, he can't ignore it. When a chance encounter brings Wada and Nick together, they couldn't know the series of violent events set off by their investigations. And when they discover Nick's father might have been the only witness to a dark secret forever buried, they realise there are some powerful people who will do whatever it takes to keep it that way... ...Show more
$17.99
AUD
Category: Crime Fiction | Series: Amos Decker Ser.
With over 110 million copies of his novels in print, David Baldacci is one of the most widely read storytellers in the world. Now he introduces a startling, original new character: a man with perfect memory who must solve his own family's murder.MEMORY MANAmos Decker's life changed forever--twice.The fi rst time was on the gridiron. A big, towering athlete, he was the only person from his hometown of Burlington ever to go pro. But his career ended before it had a chance to begin. On his very first play, a violent helmet-to-helmet collision knocked him off the field for good, and left him with an improbable side effect--he can never forget anything. The second time was at home nearly two decades later. Now a police detective, Decker returned from a stakeout one evening and entered a nightmare--his wife, young daughter, and brother-in-law had been murdered.His family destroyed, their killer's identity as mysterious as the motive behind the crime, and unable to forget a single detail from that horrible night, Decker finds his world collapsing around him. He leaves the police force, loses his home, and winds up on the street, taking piecemeal jobs as a private investigator when he can.But over a year later, a man turns himself in to the police and confesses to the murders. At the same time a horrific event nearly brings Burlington to its knees, and Decker is called back in to help with this investigation. Decker also seizes his chance to learn what really happened to his family that night. To uncover the stunning truth, he must use his remarkable gifts and confront the burdens that go along with them. He must endure the memories he would much rather forget. And he may have to make the ultimate sacrifice.MEMORY MAN will stay with you long after the turn of the final page. ...Show more
$29.99
AUD
Category: Crime Fiction
An extraordinary, unputdownable debut novel exploring trauma, connection, and our cultural obsession with dead girls.   This is not just another novel about a dead girl. When she arrived in New York on her 18th birthday carrying nothing but $600 cash and a stolen camera, Alice Lee was looking for a fr esh start. Now, just one month later, she is the city's latest Jane Doe, an unidentified murder victim. Ruby Jones is also trying to start over; she travelled halfway around the world only to find herself lonelier than ever. Until she finds Alice's body by the Hudson River. From this first, devastating encounter, the two women form an unbreakable bond. Alice is sure that Ruby is the key to solving the mystery of her life - and death. And Ruby - struggling to forget what she saw that morning - finds herself unable to let Alice go. Not until she is given the ending she deserves. Before You Knew My Name doesn't ask whodunnit. Instead, this powerful, hopeful novel asks: Who was she? And what did she leave behind? The answers might surprise you. ...Show more
$19.99
AUD
Category: Crime Fiction
THE SUNDAY TIMES BESTSELLER  'A thrilling read from one of my favorite writers' KARIN SLAUGHTER 'Read this book' DAVID BALDACCI  'One of the absolute best thrillers of the year' JEFFERY DEAVER  'You will find it hard to put down' MARK BOWDEN ***  EVERY BODY HAS SECRETS It's sweltering in Charlotte, Nort h Carolina, and Temperance Brennan, still recovering from neurosurgery following an aneurysm, is battling nightmares, migraines, and what she thinks might be hallucinations when she receives a series of mysterious text messages, each containing a new picture of a corpse that is missing its face and hands. Immediately, she's anxious to know who the dead man is, and why the images were sent to her.   An identified corpse soon turns up, only partly answering her questions.   To find answers to the others, including the man's identity, she must go rogue. With help from a number of law enforcement associates including her Montreal beau Andrew Ryan and the always-ready-with-a-smart-quip ex-homicide investigator Skinny Slidell, and utilizing new cutting-edge forensic methods, Tempe draws closer to the astonishing truth.   But the more she uncovers, the darker and more twisted the picture becomes . . .  *** Praise for A Conspiracy of Bones and Kathy Reichs: 'A Conspiracy of Bones shows off Kathy Reichs' dazzling new level of plotting mastery. A thrilling read from one of my favorite writers' KARIN SLAUGHTER, #1 internationally bestselling author of The Last Widow and The Good Daughter  'One of the absolute best thrillers of the year . . . A great series has just gotten greater' JEFFERY DEAVER, #1 internationally bestseller author of The Bone Collector and The Never Game 'Don't miss this one! The corpse is ghastly. The investigation is intense. So many pulse-pounding twists and surprises--it kept me guessing till the end!' R.L. STINE, bestselling author Goosebumps and Fear Street   'Tempe Brennan is back . . . You will find it hard to put down' MARK BOWDEN, #1 New York Times bestselling author of The Last Stone and Black Hawk Down 'Kathy Reichs writes smart--no, make that brilliant--mysteries that are as realistic as non-fiction and as fast-paced as the best thrillers about Jack Reacher or Alex Cross' JAMES PATTERSON 'Nobody does forensics thrillers like Kathy Reichs. She's the real deal' DAVID BALDACCI 'Every minute in the morgue with Tempe is golden' THE NEW YORK TIMES BOOK REVIEW 'Brennan is a winner, and so is Reichs' DAILY NEWS ...Show more