$22.99
AUD
Category: Science Fiction
Before The Matrix, before Star Wars, before Ender's Game and Neuromancer, there was Dune: winner of the prestigious Hugo and Nebula awards, and widely considered one of the greatest science fiction novels ever written. Melange, or 'spice', is the most valuable - and rarest - element in the universe; a drug that does everything from increasing a person's life-span to making intersteller travel possible. And it can only be found on a single planet: the inhospitable desert world Arrakis. Whoever controls Arrakis controls the spice. And whoever controls the spice controls the universe. When the Emperor transfers stewardship of Arrakis from the noble House Harkonnen to House Atreides, the Harkonnens fight back, murdering Duke Leto Atreides. Paul, his son, and Lady Jessica, his concubine, flee into the desert. On the point of death, they are rescued by a band for Fremen, the native people of Arrakis, who control Arrakis' second great resource: the giant worms that burrow beneath the burning desert sands. In order to avenge his father and retake Arrakis from the Harkonnens, Paul must earn the trust of the Fremen and lead a tiny army against the innumerable forces aligned against them. And his journey will change the universe.   ...Show more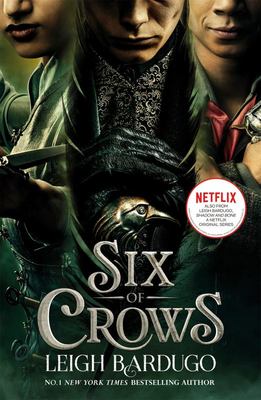 $19.99
AUD
Category: Science Fiction | Series: Six of Crows Ser.
Enter the Grishaverse with the #1 New York Times bestseller Six of Crows, coming soon to Netflix as part of the original series, Shadow and Bone. This edition features exclusive cover art from the show! Ketterdam: a bustling hub of international trade where anything can be had for the right price - and no one knows that better than criminal prodigy Kaz Brekker. Kaz is offered a chance at a deadly heist that could make him rich beyond his wildest dreams. But he can't pull it off alone. . . A convict with a thirst for revenge. A sharpshooter who can't walk away from a wager. A runaway with a privileged past. A spy known as the Wraith. A Heartrender using her magic to survive the slums. A thief with a gift for unlikely escapes. Six dangerous outcasts. One impossible heist. Kaz's crew is the only thing that might stand between the world and destruction - if they don't kill each other first. ...Show more
$27.99
AUD
$32.99
(15% off)
Category: Science Fiction
A lone astronaut must save the earth from disaster in this incredible new science-based thriller from the Sunday Times bestselling author of The Martian. AVAILABLE FOR PRE-ORDER NOW: from the bestselling author of THE MARTIAN 'If you like a lot of science in your science fiction, Andy Weir is the wr iter for you. . . This one has everything fans of old school SF (like me) love.' GEORGE R.R. MARTIN 'Brilliantly funny and enjoyable. One of the most plausible science fiction books I've ever read' TIM PEAKE, astronaut 'Weir's finest work to date. . . This is the one book I read last year that I am certain I can recommend to anyone, no matter who, and know they'll love it.' BRANDON SANDERSON________________________________________A lone astronaut.An impossible mission.An ally he never imagined. Ryland Grace is the sole survivor on a desperate, last-chance mission - and if he fails, humanity and the earth itself will perish. Except that right now, he doesn't know that. He can't even remember his own name, let alone the nature of his assignment or how to complete it. All he knows is that he's been asleep for a very, very long time. And he's just been awakened to find himself millions of miles from home, with nothing but two corpses for company. His crewmates dead, his memories fuzzily returning, Ryland realizes that an impossible task now confronts him. Hurtling through space on this tiny ship, it's up to him to puzzle out an impossible scientific mystery-and conquer an extinction-level threat to our species. And with the clock ticking down and the nearest human being light-years away, he's got to do it all alone. Or does he? An irresistible interstellar adventure as only Andy Weir could imagine it, Project Hail Mary is a tale of discovery, speculation, and survival to rival The Martian -- while taking us to places it never dreamed of going.________________________________________'One of the most original, compelling, and fun voyages I've ever taken.' ERNEST CLINE, author of Ready Player One and Ready Player Two 'Undisputedly the best book I've read in a very, very long time. Mark my words: Project Hail Mary is destined to become a classic.' BLAKE CROUCH 'An unforgettable story of survival and the power of friendship - nothing short of a science-fiction masterwork.' KIRKUS REVIEWS 'A suspenseful portrait of human ingenuity and resilience [that] builds to an unexpectedly moving ending. A winner.' PUBLISHERS WEEKLY 'Weir returns with gusto . . . his writing flows naturally, and his characters and dialogue crackle with energy. With this novel, he takes his place as a genuine star in the mainstream SF world.' BOOKLIST ...Show more
$19.99
AUD
Category: Science Fiction | Series: Shadow and Bone
Enter the Grishaverse with book one of the Shadow and Bone Trilogy, coming soon to Netflix as an original series. This edition features exclusive cover art from the show!Soldier. Summoner. Saint. Orphaned and expendable, Alina Starkov is a soldier who knows she may not survive her first trek across the Shadow Fold - a swath of unnatural darkness crawling with monsters. But when her regiment is attacked, Alina unleashes dormant magic not even she knew she possessed.Now Alina will enter a lavish world of royalty and intrigue as she trains with the Grisha, her country's magical military elite - and falls under the spell of their notorious leader, the Darkling. He believes Alina can summon a force capable of destroying the Shadow Fold and reuniting their war-ravaged country, but only if she can master her untamed gift.As the threat to the kingdom mounts and Alina unlocks the secrets of her past, she will make a dangerous discovery that could threaten all she loves and the very future of a nation.Welcome to Ravka . . . a world of science and superstition where nothing is what it seems. ...Show more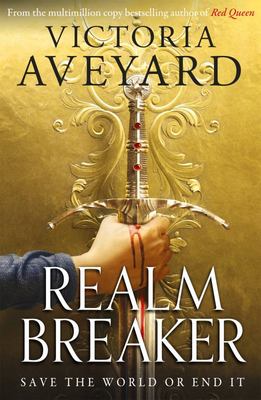 $22.99
AUD
Category: Science Fiction
Irresistibly action-packed and full of lethal surprises, this stunning new fantasy series from Victoria Aveyard, #1 New York Times bestselling author of the Red Queen series, begins where hope is lost and asks: When the heroes have fallen, who will take up the sword? A strange darkness grows in Allward. Even Corayne an-Amarat can feel it, tucked away in her small town at the edge of the sea. She soon discovers the truth: She is the last of an ancient lineage--and the last hope to save the world from destruction. But she won't be alone. Even as darkness falls, she is joined by a band of unlikely companions: A squire, forced to choose between home and honor. An immortal, avenging a broken promise. An assassin, exiled and bloodthirsty. An ancient sorceress, whose riddles hide an eerie foresight. A forger with a secret past. A bounty hunter with a score to settle. Together they stand against a vicious opponent, invincible and determined to burn all kingdoms to ash, and an army unlike anything the realm has ever witnessed.   ...Show more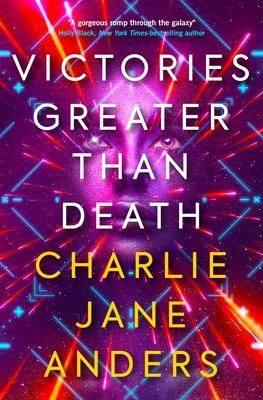 $19.99
AUD
Category: Science Fiction
Ages 12+From internationally bestselling author of All the Birds in the Sky comes a heart stopping adventure set against an intergalactic war — buckle your seatbelts!Tina never worries about being 'ordinary'--she doesn't have to, since she's known practically forever that she's not just Tina Mains, aver age teenager and beloved daughter.She's also the keeper of an interplanetary rescue beacon, and one day soon, it's going to activate, and then her dreams of saving all the worlds and adventuring among the stars will finally be possible.Tina's legacy, after all, is intergalactic — she is the hidden clone of a famed alien hero, left on Earth disguised as a human to give the universe another chance to defeat a terrible evil. But when the beacon activates, it turns out that Tina's destiny isn't quite what she expected.Things are far more dangerous than she ever assumed — and everyone in the galaxy is expecting her to actually be the brilliant tactician and legendary savior Captain Thaoh Argentian, but Tina....is just Tina. And the Royal Fleet is losing the war, badly — the starship that found her is on the run and they barely manage to escape Earth with the planet still intact. Luckily, Tina is surrounded by a crew she can trust, and her best friend Rachel, and she is still determined to save all the worlds. But first she'll have to save herself. ...Show more
$32.99
AUD
Category: Science Fiction
The princess isn't supposed to fall for an evil sorceress. But in this darkly magical retelling of Sleeping Beauty true love is more complicated than a simple fairy tale. Perfect for fans of Naomi Novik and Holly Black. Once upon a time, there was a wicked fairy who cursed a line of princesses to die, a nd could only be broken by true love's kiss. You've heard this before, haven't you? The handsome prince. The happily-ever-after. Utter nonsense. Let me tell you, no one actually cares about what happens to our princesses. I thought I didn't care, either. Until I met her. Princess Aurora. The last heir to the throne. The future queen her realm needs. One who isn't bothered that I am the Dark Grace, abhorred and feared for the mysterious dark magic that runs in my veins. Aurora says I should be proud of my gifts. That she . . . cares for me. Even though it was a power like mine that was responsible for her curse. But with less than a year until that curse will kill her, any future I might see with Aurora is swiftly disintegrating - and she can't stand to kiss yet another insipid prince. I want to help her. If my power began her curse, perhaps it's what can lift it. Perhaps, together, we could forge a new world. Nonsense again. Because we all know how this story ends, don't we? Aurora is the beautiful princess. And I- I am the villain. 'Malice is the dark and wicked heart of a fairytale carved into a book. This story is beautiful, vicious magic.' Tasha Suri, author of Empire of Sand 'A truly original and clever retelling of a classic that had me racing to the end - you'll never look at Sleeping Beauty the same again.' S.A. Chakraborty, author of City of Brass 'The story grows deliciously darker at every turn . . . Fairy tale lovers of all ages will be thrilled' Publishers Weekly, starred review ...Show more
$22.99
AUD
Category: Science Fiction | Series: The Witcher
Geralt the Witcher - revered and hated - holds the line against the monsters plaguing humanity in the bestselling series that inspired the hit Witcher Netflix show and video games. Geralt of Rivia is a Witcher, a man whose magic powers and lifelong training have made him a brilliant fighter and a mercil ess assassin. Yet he is no ordinary killer: he hunts the vile fiends that ravage the land and attack the innocent. But not everything monstrous-looking is evil; not everything fair is good . . . and in every fairy tale there is a grain of truth. Andrzej Sapkowski, winner of the World Fantasy Lifetime Achievement award, started an international phenomenon with his Witcher series. In this second collection of short stories, following the adventures of the hit collection The Last Wish, join Geralt as he battles monsters, demons and prejudices alike . . . ...Show more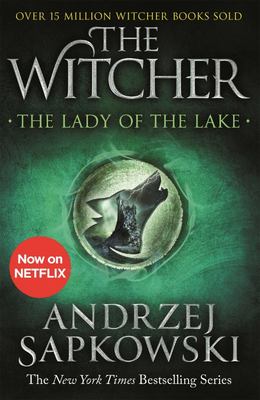 $22.99
AUD
Category: Science Fiction | Series: The Witcher
The fifth novel in the New York Times bestselling Witcher series that inspired the hit Netflix show finds Ciri trapped in a distant world and separated from Geralt and her destiny. After walking through a portal in the Tower of the Swallow, thus narrowly escaping death, the Witcher girl, Ciri, finds her self in a completely different world... a world of the Elves. She is trapped with no way out. Time does not seem to exist and there are no obvious borders or portals to cross back into her home world. But this is Ciri, the child of prophecy, and she will not be defeated. She knows she must escape to finally rejoin the Witcher, Geralt, and his companions - and also to try to conquer her worst nightmare. Leo Bonhart, the man who chased, wounded and tortured Ciri, is still on her trail. And the world is still at war. ...Show more
$19.99
AUD
Category: Science Fiction | Series: Inheritance Cycle
"Darkness falls . . . Despair abounds . . . Evil reigns . . . Eragon and his dragon, Saphira, have just saved the rebel state from destruction by the mighty forces of King Galbatorix, cruel ruler of the Empire. Now Eragon must travel to Ellesmera, land of the elves, for further training in magic and swo rdsmanship, the vital skills of the Dragon Rider. It is the journey of a lifetime, filled with awe-inspiring new places and people, each day a fresh adventure. But chaos and betrayal plague him at every turn, and Eragon isn t sure whom he can trust. Meanwhile, his cousin Roran must fight a new battle back home in Carvahall - one that puts Eragon in even graver danger. Will the king's dark hand strangle all resistance? Eragon may not escape with even his life . . ." ...Show more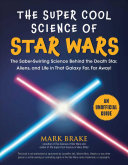 $19.99
AUD
Category: Science Fiction
Learn about the science used by Luke Skywalker, Kylo Ren, Han Solo, Chewbacca, Princess Leia, and more in the Star Wars galaxy.   Star Wars has captured the hearts and imaginations of sci-fi fans worldwide. We all marvel at its dazzling variety of aliens, spaceships, and planets. That's because there' s something revolutionary about the actual science in Star Wars. These painted pictures from the movies make us see the universe in a new light. They inspire us to ask questions such as: How much would it cost to build a Death Star? Did Star Wars predict the existence of exoplanets? Could a single blast from the Death Star destroy the earth? Could Starkiller Base suck the energy from a star? And many more The Super Cool Science of Star Wars is a book for any young Star Wars fan. You don't need to be a Jedi scientist to make the jump to light speed and find the facts behind the Star Wars galaxy ...Show more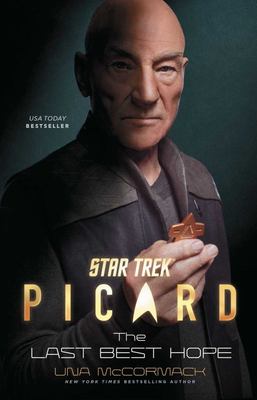 $29.99
AUD
Category: Science Fiction | Series: Star Trek: Picard Ser.
The USA TODAY bestseller--based on the new Star Trek TV series "Fifteen years ago...you led us out of the darkness. You commanded the greatest rescue armada in history. Then...the unimaginable. What did that cost you? Your faith. Your faith in us. Your faith in yourself. Tell us, why did you leave Starf leet, Admiral?" Every end has a beginning...and this electrifying novel details the events leading into the new Star Trek TV series, introducing you to brand-new characters featured in the life of Jean-Luc Picard--widely considered to be one of the most popular and recognizable characters in all of science fiction. ...Show more